WE DISRUPT,
RETHINK, AND
REFORM THE WAY
KNITTING

IS
DEFINED
About
Knit in Motion [KiM] is a knit development and consultancy studio primarily focusing on the footwear industry. Rooted in founder Suzanne Oude Hengel's core values of innovation, research, and experimentation, KiM acts as an independent catalyst for brands to explore new possibilities and push boundaries.
Bridging the gap between technical expertise and design, KiM uses a hybrid approach that favours hands-on knit development. With a focus on functionality that is highlighted by a bold aesthetic, KiM aims to disrupt, rethink, and reform the way knitting is defined.
EXPLORE
RESEARCH
DESIGN
KNIT
TEST
REPEAT
We believe that true innovation comes from a curious and iterative design process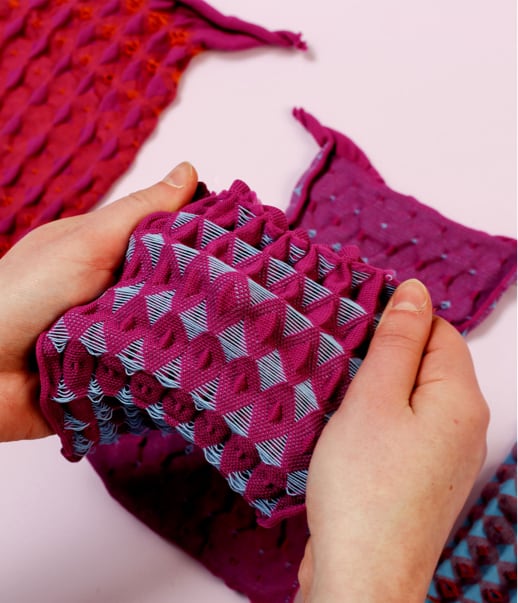 SUZANNE
OUDE HENGEL
Suzanne Oude Hengel is the founder, creative director, and senior knit engineer at Knit in Motion [KiM]. With over seven years experience in the knitting industry she has worked with notable brands such as Timberland, Rothy's, and On Running.
Specialising in Stoll flat knitting technology, Oude Hengel strives to recontextualise knitting and use it as a tool to solve problems primarily around footwear upper construction and manufacturing methods.
Whilst studying Product Design at ArtEZ University of the Arts, Arnhem [2015] she first saw the potential in the ways in which knitted textiles could be applied to footwear. After graduating, Oude Hengel sought out various opportunities, such as working at the TextielLab and participating in the Santoni Pioneer Project, to further her technical expertise and explore her unique perspectives. Her playful and inquisitive approach has always led her to question, research and push boundaries.
As a result, she has adopted a hybrid approach to knit development where she is designer, knit engineer, and product developer. This unique way of working carries over to KiM, where experimentation is balanced by technical skills.
Expertise &
services
DEVELOPMENT
We provide a variety of development options ranging from custom samples to full prototype development, innovative research projects, as well as connecting and liaising with manufacturers for production. Each project is unique and we believe that by working closely with you, we can achieve something brilliant.
CONSULTANCY
A great way to harness our unique approach to knit design, consultancy is open to brands and individuals. We offer advice and expert guidance on a variety of topics about the knitting and design process. Offering both short and long-term options, we're here to help with as much or as little advice as you need.
CREATIVE DIRECTION
By infusing a brand's identity with KiM's bold aesthetic and high-level approach to knit design, we define and conceptualise all aspects of a product or collection including moodboards, trend, and style research, as well as colour and material direction.
PROCESS
Specialising in Stoll industrial knitting, KiM handles the entire design process in-house including ideation, knit programming, and industrial sampling on our own industrial machine. However, we are not limited by machinery or geography and can work with brands on-site, using their own equipment.